YOUR HOME, YOUR VIBE
YOUR HOME, YOUR VIBE
A lot of effort goes into picking out the most ideal furniture item for every part of your house. It has to fit in with your house environment, the colours, the vibe of the place, etc… We could go on and on.
Each piece of furniture brings with itself it's own beauty and enhancement to the home environment.
Customization is the new norm when it comes to decorating/styling your own place, customization is a definite necessity. You don't want furniture that just fits in your house or space. Every individual's house has a different feel to it, while someone's house might be perfect for gatherings and parties, others might have a house perfect for nice and chill day to spend with your friends.
The size of your place does not matter, it's you who decides the environment and feel of the place. Why leave all this out to interior designers to decide for you, when you can handpick your own surroundings.
Today we will talk to you about furniture items that would fit right into any part of your house, be it your garden, living room, bedroom, with colours that fit into every kind of lighting, and look good in most environments and are classic choices for your home.
Let's jump right into it!!
Hanging chairs - growing up I've always loved hanging chairs, just sitting on them and swinging in that peaceful motion never fails to make me feel good. This is that piece of furniture that is loved by the kids, the elders, your guests, everyone!
It not only adds on to the beauty of the place but at the same time brings a feeling of comfort.
Our Solange hanging chair is made with the finest quality material (Rattan with Rope). Quality is something we never compromise on. It comes in two beautiful natural colours, which makes it a perfect fit for almost any home.
It is 110cms in height making it not too big or too small. Its unique design makes It looks warm and cozy, and at the same time very elegant.
This product speaks for itself! As literal as it can get, it is a cacoon like a tent in the form of a hanging chair. Cacoon products have a simple and chill vibe, they can be used to relax and to let you escape from everything for a while.
It is made of fabric, cotton and polyester. The best part about it is, it is water repellant, so you can let go of your worry of spilling and ruining it. With a weight of only 5kgs, you can take it anywhere with you. It's also called a cacoon storage bag.
It's the best place to hang out in all summers, considering the summers we have, it can be the best place to spend a long comfortable time in.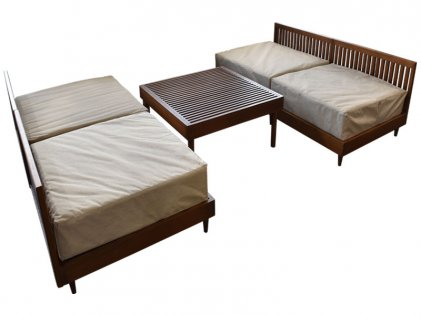 Last but not least our garden sofa set/ coffee table.
Made with the finest quality red meranti wood, it's natural brown colour lets it settle down among most kind of interiors. It has a unique design and is comfortable, you can place it in your garden or living room.
The coffee table can also be used separately from the sofa sets, depending on wherever it fits best for your place.
Check out some more amazing furniture at Dubai Garden Centre.