Puts itself away – when it is time to rewind the hose, a simple tug unlatches the drum, and the Auto Reel's patented automatic rewind system takes over. The braking mechanism ensures a controlled rewind whilst the layering system neatly coils the hose with no kinks or tangles.
Clean, tidy & protected – the Auto Reel neatly stores and protects the hose in a tough, UV resistant Polypropylene case, ensuring the hose remains protected.
Wall hanger with 180 degree coverage – the robust wall bracket allows the Auto Reel to pivot 180 degrees, allowing you to reach every part of your garden and store away flat against the wall after use.
Feeder hose & park point – neatly store the feeder hose when not in use. This is especially useful when tidying the unit away in winter. The leak free parking point prevents drips when storing in your shed or garage.
Hose Stop – prevents the hose fully retracting into the unit, meaning the hose is easily available every time.
Integrated child lock – this convenient lock prevents the hose from being pulled out by children, ensuring the hose is only pulled out when needed.
Available in the perfect size for your garden – Auto Reel has hose options to suit gardens of all sizes, from 10m up to 40m in length.
All the fittings you need – complete with tap connectors, soft touch hose attachments, feeder hose and an adjustable spray nozzle, your Auto Reel comes with all the necessary parts you need to get watering straight away.
Key Benefits Include:
Available in 20m (SKU: 2401) or 30m (SKU: 2403)

A powerful spring automatically rewinds the hose without any kinks, tangles or effort

Wall mounted with a 180 degree pivot, allows you to reach every area of your garden

Complete with all the fittings you need to connect to your tap and start watering
Features:
Type: Enclosed Reel

Format: Wall Mounted

Hose: Included

Hose Length: 20m

Hose Rewind: Automatic

Hose Layering: Automatic

Fittings: Included

Accessory Storage: Yes

Assembly: Assembled

Material: Plastic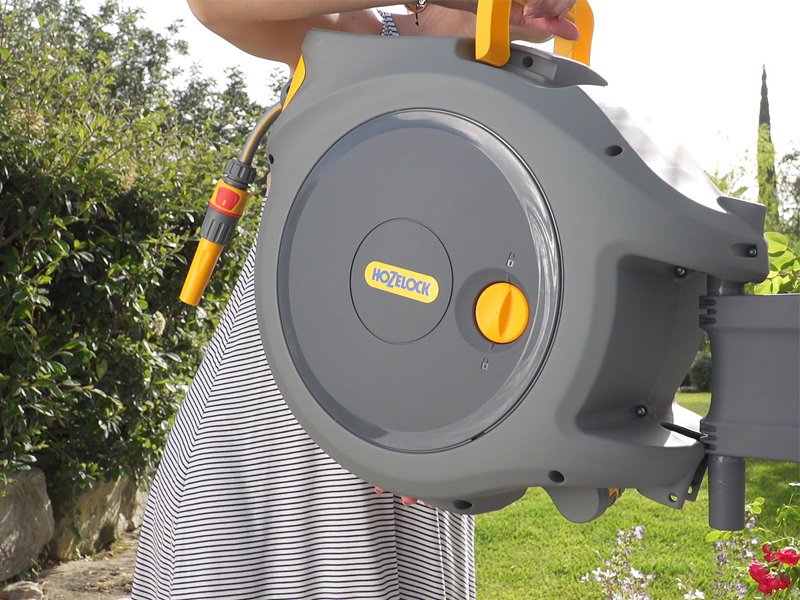 Related products