Two soft grip recesses for easy operation Flexible hose nozzle prevents kinking of the hose or leaking water or Wolben Built-in valve interrupts the flow of water, as soon as a hose attachment is removed.
19mm (3/4") Hozelock Aqua Stop connector. It has an integral valve that automatically shuts off the water supply when the spray nozzle, gun or sprinkler is uncoupled.
The Hozelock quick connect hose connectors are a step ahead of all the others. The Aqua Stop Plus connector has an internal valve that stops the water flow when an accessory (eg a spray gun ) is disconnected. This saves you having to go back to the tap to turn the water off when you are switching between accessories. It also helps you save water in the garden because it stops the water flow so less water is wasted.
Connects 19mm(3/4") and 15mm(5/8") hose to the international standard click-on fittings associated with 12.5mm garden hose.

(The Hozelock 2055 version for 12.5mm (1/2") hose is also available).

All internal parts are made from ultra tough engineering plastics for a long leak free life.

The connection to the tap is guaranteed secure up to 10 bar, thanks to a triple locking system.

The sleeve is easy to use even when wet because of the twin soft touch pads.

The hose is firmly connected thanks to barbs that connect with the inside and outside of the hose.

Hose kinking, hose swelling, and hose leaking at the connection point with the fitting is virtually eliminated due to the ingenious flexible hose-tail on the nut.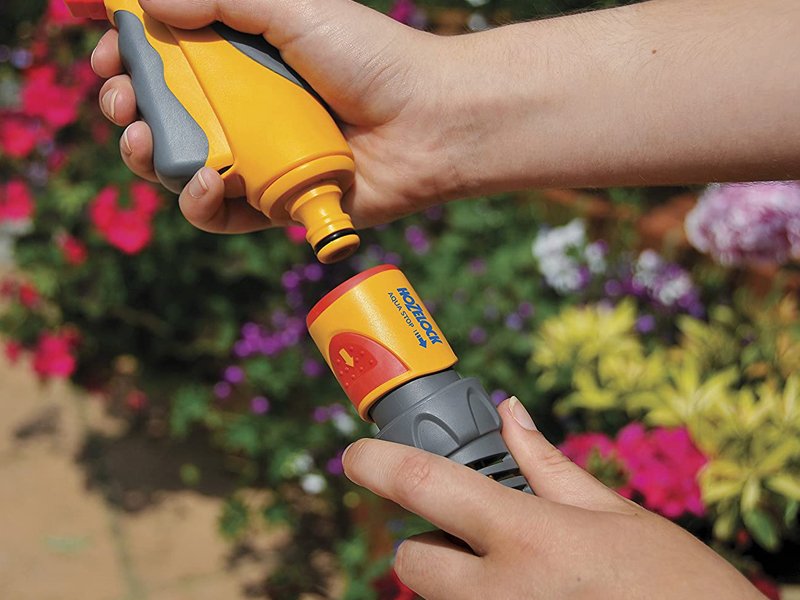 Similar products
Related products