Fill up your vertical space!
Fill up your vertical space!
The beauty of hanging plants lies simply in the fact how it can be an aesthetic pleasure to the eyes, taking up the least amount of space and being so prominent. Its decorative nature can beautify any place and give it a garden-like effect, without the requirement of an actual garden. Of course, they are widely used as garden decors, also used as interior decors in cafes, plant shops, and several indoor themed outing spots.
Hanging plants are a simple way to make use of vertical space on a porch, patio, or out in the garden. Some species are better adapted than others for this purpose, especially those that have cascading foliage. As they occupy very little space, they are a perfect fit for you if you are stuck between your four falls and need a change of some view.
In fact, studies have shown that plants may help reduce stress and reduce indoor air pollutants. And there's no question that they make your space, no matter the size, look and feel — more cozy and welcoming. If you're short on space or available tables, countertops, or shelves, turn to these indoor hanging plants to infuse your home with live greenery.
Taking care of a hanging plant may sound tricky, but the same rules apply:
Before sticking the plant, succulent, or flowers in a new planter, read up on how much water and sun it needs to thrive.

A south-facing window is best for plants that need bright light.

And whatever you do, make sure your planter has draining holes to prevent overwatering.
But if you don't want to put much effort into worrying about all these rules and keeping the plant alive, you can have an easy way out by simply buying artificial hanging plants, that give a very similar decorative effect like the actual ones, you have lesser on your plate to worry about and similar results.
Let's talk about artificial hanging mixed plants, which you'll find on our website, very affordable and at the same time a great choice for your home!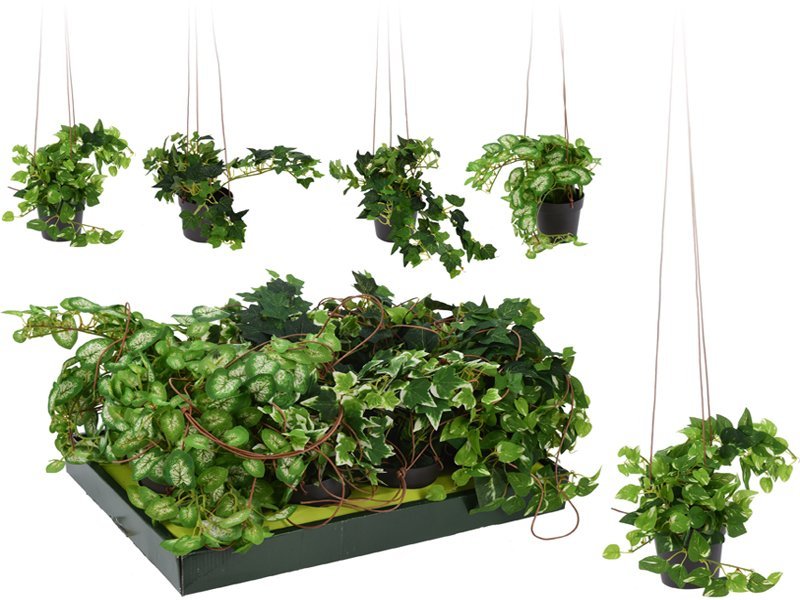 This artificial hanging plant in a pot can be purchased in different styles, individually, or a few together as well, depending on how you would like to decorate your place. With its size of 25cms, it can be fit almost anywhere and would give a stylish outlook to your place. Our lifelike artificial flowers and plants don't smell like the real thing, but they'll give your home a real boost. They never wilt and look fresh year after year. Whether you are a novice or expert, it's important to have all of the information necessary when considering hanging baskets for your office environment. With the right living floral, greenery, and plant design, your place of work can improve efficiency, creativity, and reduce absenteeism.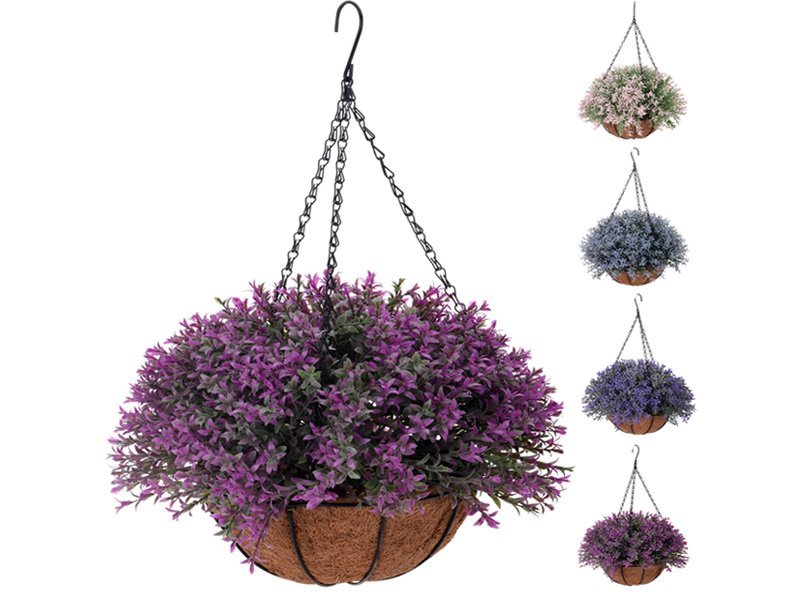 The natural pot has an elegantly contoured structure that gives it a modern appeal. Combined with the artificial plant mix, they make a perfect set together. It looks similar to a flower basket, can also be used as a gift, combined with the right kind of furniture or space it can make your place feel more lively. It also comes with a very unique and eye-pleasing color combination of purple and brown, not only do they go very well together, but being very different, together they still produce a very natural garden-like feel.
Do check these out on our website Dubai Garden Centre and many more similar products that can help you beautify your place and make it more lively! We provide a wide variety of home & plant accessories so that you have a lot to choose from and select what fits best for you!