Extremely showy, Bougainvillea 'Imperial Delight' is a semi-dwarf, vigorous, evergreen shrub or vine with elegant clusters of white papery bracts suffused with pale pink, surrounding tiny white flowers. Emerging white, the bracts mature to a delicate translucent pink giving it a lovely bicolored look. Blooming periodically throughout the year in warm winter areas, and from summer to fall elsewhere, the colorful blossoms give way to small inconspicuous fruits, 1/2 in. long (1 cm). The flowers are borne on stems clad with sharp spines and oval, pointed, medium to dark green leaves. A favorite of birds and hummingbirds.
Tuck the bougainvillea branches behind these guidance supports at regular intervals. Keep a close eye on growth and adjust as necessary until the bougainvillea starts covering the wall or other surface.
Bougainvillea plants are a beloved addition to many gardens and walls Bougainvillea is a vine-like, thorny shrub that grows rampantly. It can be trained to climb trellises or be planted as an attractive but thornily impenetrable barrier, and it can also serve as a groundcover. Bougainvilleas have beautiful, brightly colored bracts, which are specialized leaves that contain the plant s flowers.
Bougainvilleas are hardy throughout the South but young growth will be damaged by frost. Optimum growing temperatures are warm days.
Caring for Bougainvillea
Wait for the first colorful bracts to form and fall in spring.
Once they fall, prune excess growth Fertilize.
This will cause new bloom on the shorter flowering spurs.
Repeat during the flowering season as needed.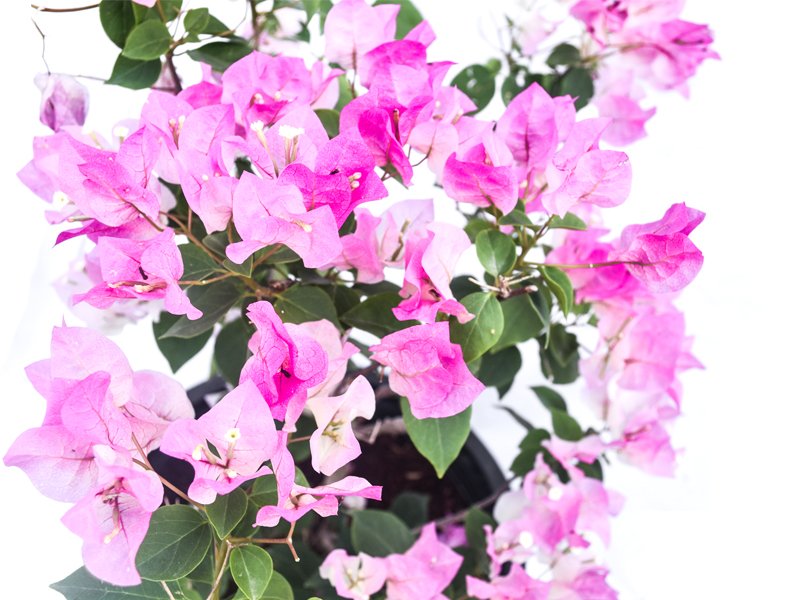 Related products