Desert Rose plants are actually a small flowering adenium plant or tree, which can be a perfect ornamental plant for summer decoration around patio or deck. These succulent plants are having distinctive fleshy green leaves and a developed base in a bulbous form. These adenium plants are known for bearing large white and pink or red flowers when it gets enough bright sunlight. At a young stage they are often seen as a bonsai.
Being native to Africa and Arabia, these adenium plants could thrive well in the presence of full sunlight. They could perform well even in shade condition, but do make sure that at 6 hours daily Sunlight is required to be met. Water them moderately as they are Drought tolerant. One could use any organic fertilizer to feed them, and that must be done once in a month. Ideal temperature for their healthy growth is 21.11 – 37.7 degree Celsius.
Desert Rose plants have one unique ability too, that is to store water. This property helps them to tolerate drought. In desert rose, the trunk is responsible for this action, as they swell to conserve or to protect the plant from drought. That in turn means a fat trunk is an indicator of a healthy plant whereas the skinny is opposite.
Plant lovers are always looking for easy to grow, unique plants with a fun aspect. Adenium desert rose plants are perfect specimens for the intrepid or novice gardener. These East African and Arabian natives are wonderful in the interior container garden or as warm climate additions to the patio display.
The one thing that will kill these plants quickly is improper watering. They are succulents but are used to rainy periods during which they grow, followed by a dormant, dry period. Match your watering practices to these needs for best success. Keep soil moderately moist in spring and summer, but reduce watering in fall and especially winter when the plant is dormant. Fertilize with a dilution by half of a 20-20-20 liquid plant food once per month when the plant is actively growing.
Do not feed the desert rose during winter. The most common pests are scale, mealybugs and spider mites. Use cotton balls soaked in alcohol to wipe away these insect rogues. Be cautious, as Adenium desert rose is in the Dogbane family, with all species bleeding a poisonous sap that can irritate skin and mucous membranes.
Should an item or color not be available, substitutions may apply.
If the item is unavailable, we will try to help make a substitution.
Plants/Flowers might have slight variations in color, texture, finish, and size. You can expect there will be some differences from what is displayed on our website because you are choosing a one-of-a-kind piece from our mother nature.

Note: Images are for illustration purposes only. The actual item may be different due to image quality enhancements.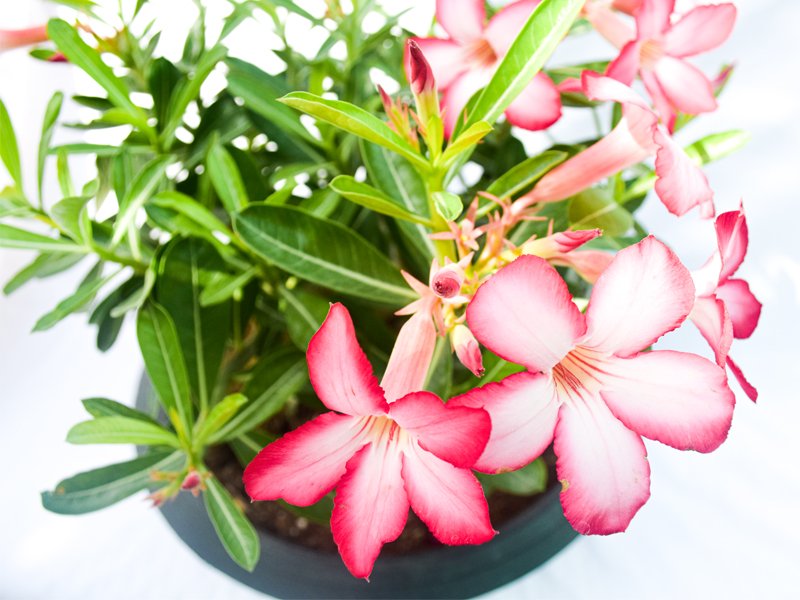 Related products